Today I found out that our PPP Loan finally got approved. And it wasn't from our typical bank.
Thankfully I trusted my intuition to ask a friend for help and advice because I couldn't wait for any longer for my typical bank to give us a response.
My biggest message here today is never giving up when you think there are no more options. You might just have to try one more time to finally get what you've been waiting for. Keep fighting for your business and your people. Know that we Small Businesses need to stick together.
This is not us recommending you on what you should do, this is us just sharing what worked for us. Hopefully, this will work for you too!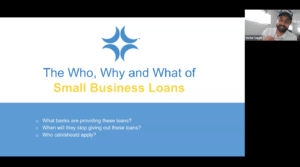 Watch the video here to learn how we were finally able to get an approval for the PPP loan.