Pinecrest Gardens celebrated the opening of its upper garden, reimagined playground, petting zoo, and learning center. It featured the inaugural photography exhibition Reflections from the Shadows by Annette Bonnier. Pinecrest Gardens was opened to the public on December 03, 2022 at 9:00 am in Pinecrest, Florida with a ribbon cutting and ceremony. The newly renovated area is intended to be a place for people of all ages to enjoy an outdoor experience.  
Pinecrest Gardens is dedicated to preserving, cultivating, and celebrating the diverse botanical history of South Florida. It demonstrates a commitment to nature through education, community service, and sustainability while providing an entertainment destination that fosters artistic excellence, diversity, and community spirit. The community is enriched as a result of the preservation of historic buildings.  
As South Florida's Cultural Arts Park, it features over 1,000 varieties of rare and exotic tropical plants and palm trees in a native tropical hardwood and cypress setting. Its dramatic landscape, enhanced with natural streams, caves, and fissures, provides the most dramatic stage for our historically designated structures and buildings. You can discover South Florida's Cultural Arts Park and all it offers.  
Families enjoyed free admission, family-friendly activities, refreshments, and snacks during the opening, courtesy of the Village of Pinecrest.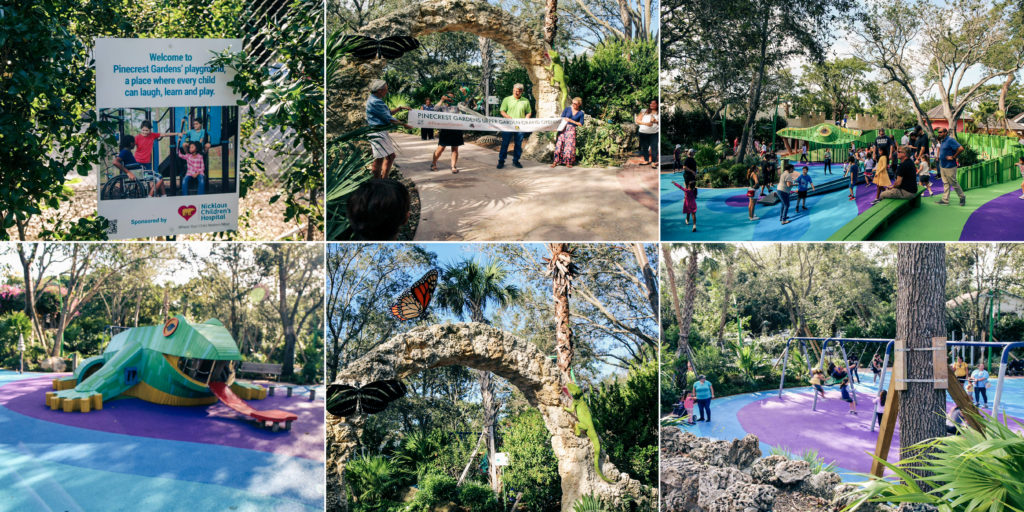 Lunacon played a significant role in the renovation project of Pinecrest Gardens Upper Gardens, designed for improvements to offer the following features: ADA-accessible playground, toddler space, and Petting Zoo improvements that offer children of all abilities the opportunity to engage with animals and provide the residents and their pets a healthier and safer environment during extreme weather conditions. 
With its experienced in different contracting such as Federal, commercial, and residential, Lunacon has the capacity to build structures in harmony with nature. Just like the Pinecrest Gardens, Lunacon's project with Pinecrest Gardens includes an Expanded Sensory Garden / Inspiration Center focusing on all-inclusive activities. The inspiration center contains a multi-use main hall, a general storage room, a janitor's closet, and restrooms. On the other hand, the petting zoo consists of three animal pod structures. The barn comprises five animal holding areas, a general staff work area, and a storage room adjacent to the main space.   
The park prospered over the years and under new management, drawing over one million guests to its Pinecrest location, now known as Pinecrest Gardens. This milestone was accomplished over 66 years. The landmark was relocated to its current waterside location on Watson Island in 2002, between Downtown Miami and Miami Beach.  
Pinecrest Gardens is one of the most significant cultural assets in South Florida. It is a beacon for the people who live in the relatively small community of Pinecrest. It serves as a model of excellence for the communities in the surrounding area in terms of preservation, civic engagement, and community development.  
Pinecrest is one of the significant projects Lunacon Construction Group has successfully completed.